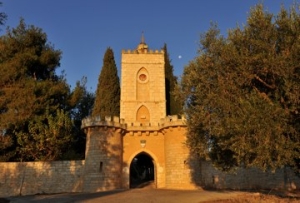 BLC is excited to offer beginning Biblical Hebrew  at Tantur Ecumenical Institute in Jerusalem next summer 2016.
Orientation will be Sunday night, July 3rd.  First day of class will begin Monday morning, July 4th at 8:30am.  Classes will run Monday-Friday from 8:30am to 12:30pm.  The last day of the course will be Friday, July 29th, ending at 12:30pm.
For beginning students:  The classes are designed specifically for students with little or no background in Biblical Hebrew.
For advanced students and instructors:  Though these are beginning level courses, more advanced students as well as professors who have taken them in the past have found them to be a most effective way to develop the oral fluency necessary for implementing the latest pedagogies in second language acquisition.  Additionally, they report that seeing the pedagogies in action was most valuable for learning how to implement communicative language instruction in their own classrooms.  We encourage anyone with such goals to register for these summer courses.
Dates: July 3-29, 2016
Course:
HEB101. Beginning Biblical Hebrew: "Jonah" (4 weeks, 90 hours).  Course description, here.  For more on BLC Immersion Course methodology, here.
Prices:
Tuition and Two Field Trips: $1700
Room and Board: $73 per night for Room and Breakfast (Double Occupancy)**
Facilities: The Tantur Ecumenical Institute sits at the top of a hill on the southern edge of Jerusalem overlooking the Judean hills and the city of Bethlehem.  It includes 40 acres of olive, fruit and pine trees and gardens that bloom nearly all year round.  It also hosts a library of more than 70,000 volumes. For more on Tantur's facilities, here.
Discounts: The spouse of an enrolled student is entitled to a reduction of $500 off the tuition price.

Questions? Email us at support@biblicallanguagecenter.com