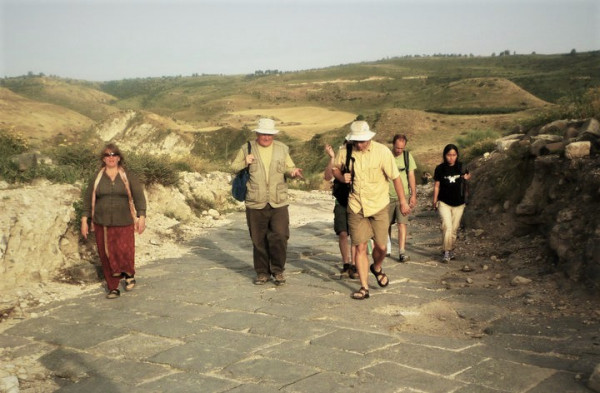 BLC is excited to offer its four week Beginning Biblical Hebrew Course at Jerusalem Hills Inn in Abu Ghosh, Israel this summer 2020. (Register Now)
"My four weeks in your ulpan was the highlight of my summer.  I wish I could have done that for the entire three months I was in Israel.  I actually got a comment from one of my Hebrew professors yesterday that I'm reading Hebrew like I just got back from Israel."– Shawn F.
HEB 101-Beginning Biblical Hebrew: "Jonah" will run from June 29-July 24, 2020.
HEB 101-Beginning Biblical Hebrew: "Jonah"
A beginning Hebrew language course, based on the book of Jonah. Students enter the Hebrew language through in-class TPR (Total Physical Response). TPRS (Teaching Proficiency through Reading and Storytelling) is another method used with students as they advance further and interact with the language. Noun and verb morphology and syntax patterns for biblical Hebrew narrative are introduced and contextually absorbed. The narrative of Jonah is read, with an emphasis on comprehension, combined with memorizing dialogues and Bible passages (Deut 6:4-9), and participating in 'live' language drills. The instruction includes a spoken biblical Hebrew environment to enhance long-term retention and to facilitate future studies in more advanced biblical Hebrew or other dialects of Hebrew. Class field trips within Israel will touch on cultural, geographical and historical information connected to the biblical text.
4 Week Course
90 hours of class time
Orientation will be Sunday night, June 28th.
First day of class will begin Monday morning, June 29th at 8:45am.
Classes will run Monday-Friday from 8:45am to 12:45pm.
The last day of the course will be Friday, July 24th, ending at 12:45pm.
For more on BLC Immersion Course methodology, here.
Price: Tuition and Two Field Trips: $1700*
For beginning students:  The classes are designed specifically for students with little or no background in Biblical Hebrew.
Course Prerequisite: After their registration is confirmed students will be required to complete an online course (30-45 hours of work) in the months before arriving at the immersion class.
NEW! Students who complete a Live Video Class for Hebrew, Level A already meet the prerequisite—and they gain 15 additional hours of instruction and human interaction that provide a vital core for effective language learning. We highly recommend this approach as it will empower you to achieve the greatest benefit from your time in the immersion class held in Israel.
For advanced students and instructors:  Though these are beginning level courses, more advanced students as well as professors who have taken them in the past have found them to be a most effective way to develop the oral fluency necessary for implementing the latest pedagogies in second language acquisition.  Additionally, they report that seeing the pedagogies in action was most valuable for learning how to implement communicative language instruction in their own classrooms.  We encourage anyone with such goals to register for these summer courses.
---
Lodging: Please write Jerusalem Hills Inn at info@jerusalemhillsinn.com and ask about room availability for our BLC courses.  There is a special discount for BLC participants.
Facilities: Jerusalem Hills Inn is a bed-and-breakfast, conveniently located on the outskirts of Jerusalem in the Israeli village of Abu Ghosh which is the biblical location of Kiriath Jearim.
For more details on accommodations and study in Israel, see the 2020 BLC Student Information Packet.
*A family member of an enrolled student is entitled to a $500 reduction of the tuition cost.

Questions? Email us at support@biblicallanguagecenter.com
"After spending the summer in Israel in the intensive Biblical Ulpan, I came back to the States to begin a biblical languages based exegesis graduate program at Wheaton College.  Although I had only had 6 weeks of Hebrew in my life, I thought I would try the Hebrew proficiency exam 'just for fun,' and to see how well my studies there had lined up with other students here.  I tested out of the first full year of Hebrew!  My roommate, who studied 3 years of biblical Hebrew at an American Bible school, is amazed at how much vocabulary I know and can use easily in various situations–she is now using my Living Biblical Hebrew CDs and textbook to see if she can catch up!  The more I sit in Hebrew class here, the more thankful I am that I received such a strong foundation internalizing the language in Israel."
– Lindsay M., undergraduate student