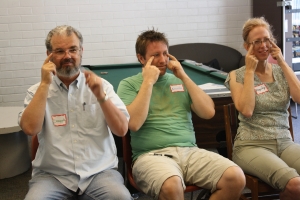 The Biblical Language Center believes that speaking and thinking in a language is crucial for biblical language fluency.  Second Language Acquisition studies have shown that speaking a language is a catalyst for truly internalizing a language.  BLC Fluency Workshops work on skills necessary for efficiently applying Communicative Language Teaching methods to the classroom. Our workshops run "immersion" style with the entire day taking place in Koine Greek or Biblical Hebrew.  Both full group sessions and small groups led by a team of facilitators provide maximum personal attention and practice.
For more, read the blog–"Why Fluency Workshops?"
Change second paragraph to: Although fluency workshops will not be held this coming summer (2016), there will be an intensive language course in both Hebrew. Though this is a beginning level course, more advanced students as well as professors who have taken it in the past have found them a most effective way to develop the oral fluency necessary for implementing the latest pedagogies in second language acquisition.  Additionally, they report that seeing the pedagogies in action has proven to be a huge benefit, if not indispensable, for learning how to implement communicative language instruction in their own classrooms. We encourage anyone with such goals to register for these summer courses.
---