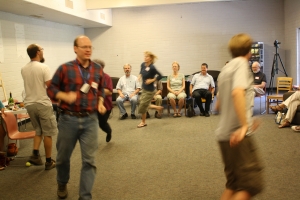 For the past two summers BLC has brought together teachers and advanced students for a dynamic ten day session of hearing and speaking Koine Greek in Fresno. The growth we have witnessed both in participants and facilitators has been astounding, indeed transformative. It is with fresh enthusiasm that we look forward to offering another workshop specifically designed to grow oral fluency in Koine Greek.  This workshop is designed to help Greek teachers bridge a gap from typical Greek training to the needs of immersion methodologies.
Second Language Acquisition studies have shown that speaking a language is a catalyst for truly internalizing a language. In addition to maximizing internalization, the workshop will also work on skills necessary for effectively applying Communicative Language Teaching methods to the classroom. The workshop will be run "immersion" style, with the entire day, 8:45 AM to 5:00 PM, including lunch, taking place in Koine Greek. Both full group sessions and several smaller groups with 'facilitators' will provide maximum personal attention and practice.
Dates: Tuesday July 23 (6PM) to Thursday August 1 (11:30 AM), 2013.
Location: Fresno Pacific University, Fresno, CA.
Cost: $1,750 (including all registration fees, accommodations, and meals, with early registration rate)
Accommodations: The workshop will be held on the campus of Fresno Pacific University. Participants will be housed in the student-housing suites and will benefit from having access to university's numerous services.  Fresno is in the center of California's San Joaquin Valley and is the gateway to three national parks, including Yosemite.
Price list:
Registration: $1,100 (until Mar 1st; $1,265 thereafter)
Accommodations (double occupancy; including all meals and linens): $650
Accommodations (single occupancy; including all meals and linens): $775
All meals will be in the university's cafeteria.  The cafeteria is smorgasboard-style with multiple options to suit various tastes and diet requirements.
Registration:
Registration deposit: $300
Registration deadline: June 28th
Full payment deadline: June 28th
Please note the early registration discount listed above for registering early. After Mar 1, 2013 the deposit is non-refundable (unless BLC cannot confirm your registration) but will be applied to the balance due.