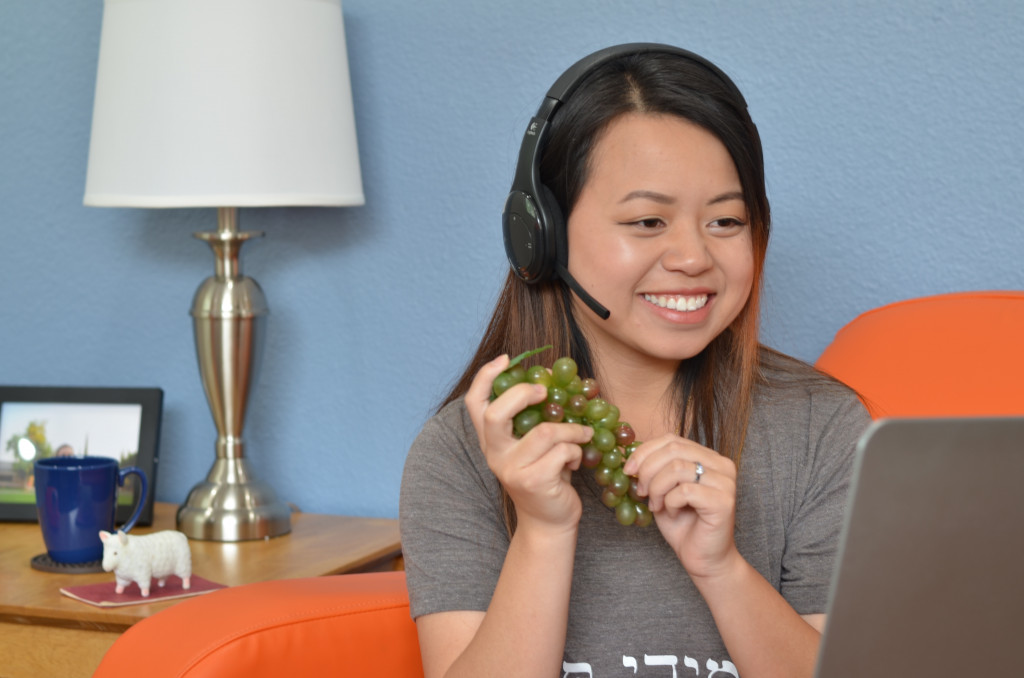 LIVE VIDEO CLASSES 
Enhance the effectiveness of BLC's Living Biblical Languages materials with live instruction, from the comfort of your own home.
⇒ No prior knowledge needed
⇒ College level instruction
⇒ Small class sizes
⇒ Full immersion experience
⇒ Learn from the convenience of your home

⇒ Learn to think in Hebrew, not just talk about Hebrew
BEGINNING KOINÉ GREEK, Level A
BEGINNING BIBLICAL HEBREW, Levels A & B

BLC's "Live Video Classes" are small, intimate classes of no more than 10 participants taught by a BLC instructor via video conferencing. Learners participate in the classes from the comfort and convenience of their own home.
What makes BLC instructors unique is that they have speaking proficiency in biblical Hebrew, a prerequisite for using the approaches known to be most effective for language learning.  This, combined with BLC's two decades of experience using these approaches, provides the student with an unparalleled learning experience. The class sessions are taught 90-95% of the time in the biblical language, providing an immersive experience that makes learning easier, quicker, and even more fun. To facilitate class interaction and learning, students will interact with the instructor and each other over live video feed.


Class sessions are recorded, and are made available to the learners for review. Each "Live Video" session typically lasts an hour and is complemented by homework assignments that both deepen and reinforce class learning. We recommend that learners plan on an additional two hours of homework for every hour spent in live video instruction. No prior knowledge of the biblical languages is needed for the first level.
Once enrolled, the learner will receive an email with the link to the course together with a username and password to access it. At this link, course material, homework assignments, assessment quizzes and exams, and instructions on how to join the live video sessions
(at the predetermined times) are provided.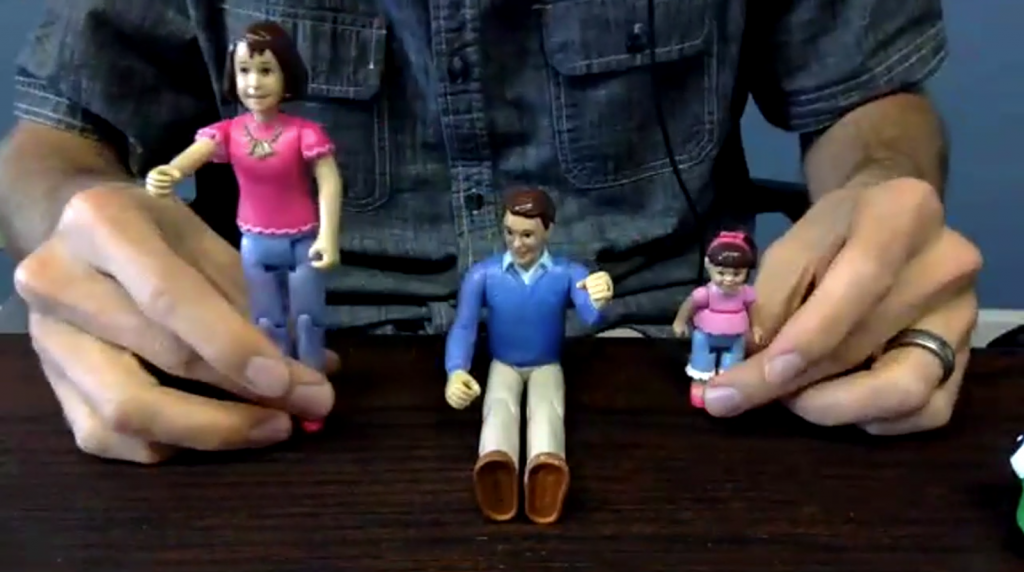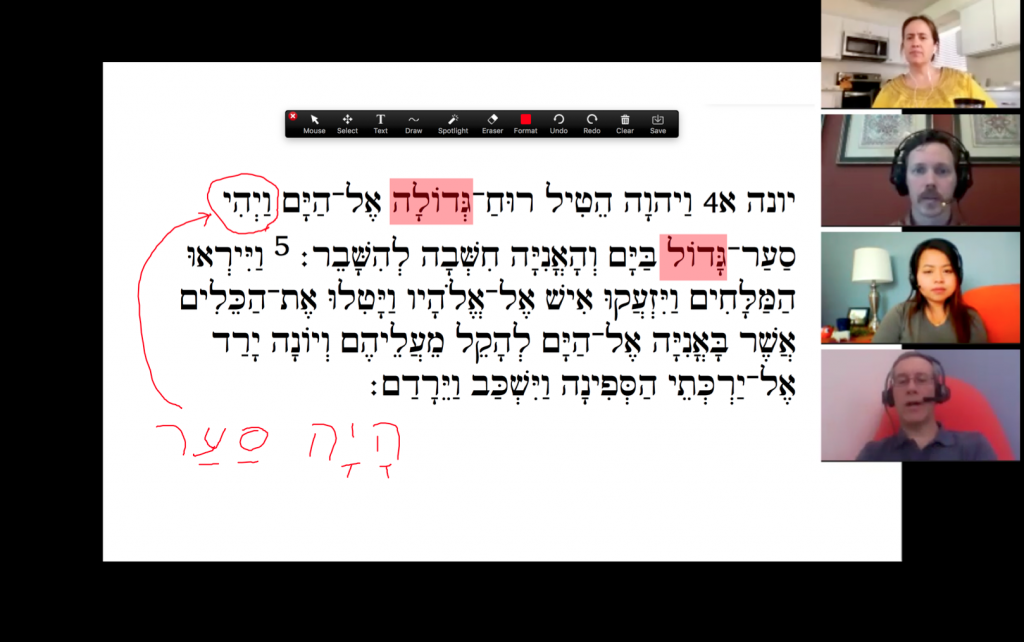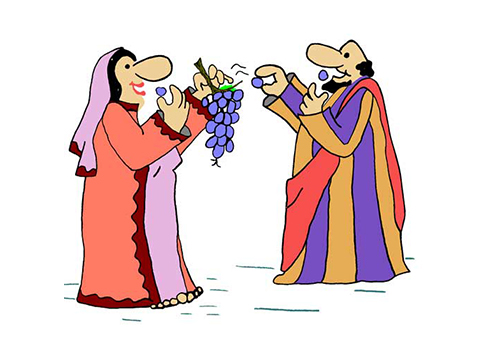 Why Live Video Classes?
There is no substitute for interacting with other speakers in the language being learned. Research has proven that to read proficiently in a second language, one must develop listening and speaking fluency in that language—only then does reading fluency become possible. Plus, learning is easier, more efficient, and longer lasting.
The advantage of BLC's Live Video Classes is that they consist of interactive teaching from a trained instructor who facilitates meaningful communication between learners through engaging activities, discussions, and interactive storytelling. All of this is conducted in biblical Hebrew, creating a truly immersive experience. As a result, learners become better readers than they would without the integration of listening and speaking skills.
How are BLC's Live Video Classes different than BLC's Online Course?
Includes all of the material of BLC's Online Course plus…
Live interaction with an instructor

Structured syllabus with strategic review

Peer accountability

A community of learners

Opportunities to ask instructor questions and get feedback

CEU's (Continuing Education Units) available
Why BLC?
Uses a methodology that works with all learning styles

The pioneers of the living biblical languages approach

Over 20 yrs of experience teaching the living biblical languages

Proven track record of success with students

Highest fluency standard for its instructors in the field

Has the most rigorous vetting of ancient language accuracy

More oral/aural content than in other resources
FAQ
I have never had any biblical Hebrew – can I still sign up?

Yes, Level 1 is designed for learners with no prior background in the biblical languages whatsoever.
I have already worked through BLC's Living Biblical Hebrew: Introduction Part One.  Can I sign up too?

You bet!  There will be much new content in the Live Video Session not found in the book, and you will interact with the language in ways not possible with self study.  We also hope to offer Level 2 Live Video Classes in 2018.  Sign up for our newsletter to get updates.
I have already taken biblical Hebrew in college or seminary.  Is this course for me?

Absolutely!  Even with your background, you will learn lots and develop new skills in the language you didn't know you didn't have.  What's more, those new skills will make you a better and more fluent reader of biblical Hebrew.
Will there be additional levels offered after Levels A and B?

We hope to offer Level C Live Video Classes in 2018.  Sign up for our newsletter to get updates.
What kind of hardware or software is needed?

Learners need to have a computer with camera, running on a recent operating system (Mac or PC), a headset/earphone with microphone,  and a good high speed internet connection.  BLC is not responsible for any technological problems the learner may have with their own equipment or internet provider.
On the website it says the class is already full; can you please add me anyway?

No, but we will do our best to open another section of the class which you could then join.
I don't feel presentable today, can I just not turn my video on this time?

In order to participate fully and learn as effectively as possible, it is important that your instructor and classmates be able to see you.
A group from my church or synagogue is interested in studying biblical Hebrew, can BLC facilitate that?

If you can put together a cohort of at least five individuals, we will do our best to find an instructor for it.
Is it possible to study biblical Hebrew more intensely than the schedule advertised?

First, please email us and let us know your wishes.  There is always the chance others have the same desires as you do, and if so we may be able to put together a class for you.  Or, if you can find a cohort of at least five students, we will do our best to find an instructor for you.
My wife and I would like to take a "Live Video Class" together, do we both need to register?

Yes, but we encourage spouses and families to learn together, so we offer a 50% discount for a second registration from the same family (that's 50% off of $350—a savings of $175).  Our goal is to give our learners the best learning experience possible, which means providing each of them with the maximum opportunity for interaction.  Even if you are "sharing" the same computer, the second person is nevertheless an additional person in the class, just like all other students.
What's the difference between BLC's Online Courses and the Live Video Classes?

The Live Video Classes come with live teaching, integrate speaking and listening skills needed to develop fluent reading skills, provide accountability, and qualify for Continuing Education Units from BLC.
My life circumstances have changed. Can I get a refund?

Refunds are possible at a rate of 50% until after the second class. After the second class meeting, no refunds are possible. Please contact support@biblicallanguagecenter.com