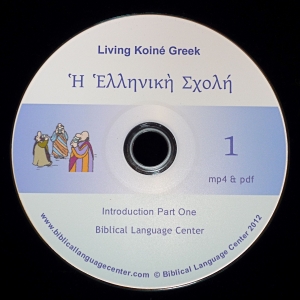 Now experience the effectiveness of Part One's 1000 pictures without the book. This version of Part One includes the same audio and visual material in mp4 format that plays on iPod™ and other mp4 players.
Along with the benefit of extra portability, this version has the enhanced feature of automatic answers for the quizzes and alphabet lists. So there's no more flipping pages to correct yourself. Plus all other resource materials found in the book, like the grammar summaries and writing system overview, are included as pdf files. Whether on your computer or other hand held devices, now you can study Living Koine Greek wherever you go.
Try out the first lesson here.
Format: CD with mp4 and pdf files
ISBN-13: 978-965-7352-06-9
[cart-button item="1220016″ ]
To purchase as a set with Part Two (a & b) please visit our store page.