New Course!  "Journeys of Abraham"
This summer BLC is offering a new intermediate Hebrew language course based on selected narratives from the life of Abraham (Gen 12, 14, 20-22).  There will be two field trips to Gerar/Be'er Sheva and the environs of Jerusalem for students to experience these biblical stories in their physical setting.
All Biblical Hebrew courses will be held at Kibbutz Tzuba in the beautiful Judean Hills of Israel.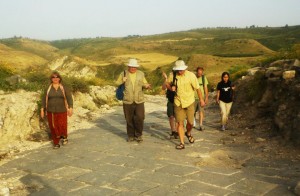 Course offerings…….
Beginning Biblical Hebrew (4 weeks): "Jonah", June 17- July 13, 2012
Intermediate Biblical Hebrew (2 weeks): "Journeys of Abraham", June 17-29, 2012
Intermediate Biblical Hebrew (2 weeks):
"Samson and
the Philistines", July 1-13, 2012
Intermediate Biblical Hebrew (2 weeks):
"Genesis: In the Beginning", July 15-27, 2012
For additional information including costs please refer to our:
2012 BLC Course Catalog
For more information on the venue and logistics please refer to our:
2012 Summer Info Packet